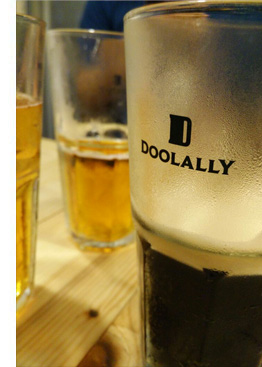 Here is Nikhil's take on Bandra's newest brew pub - Doolally Taproom.
I along with thousands of others seem to be immediately hooked. I'd probably go as far as saying we are addicted to Doolally. Who can blame u? It's located in a nice quite street in Bandra, it's very casual, always has a buzz, the beer is truly unbelievable, the grub is good and the price offers incredible value for money. Rs 250 for 330ml glass of world class beer just feels so right.
Since it opened I find myself dreaming about their beers and land up visiting on average of at least thrice a week. Sometimes it's just for 2 quick pints. Sometimes it's just because I've got off the sea link on my way home in the evening . I've even got one of the member mugs with my name on it.
The beer is undoubtedly the star of the show, with a variety of offerings and each of them with their own unique flavors, they keep you coming back for more. My favourite would have to be the Stout, though their Hefeweizen, Belgium wit beer,