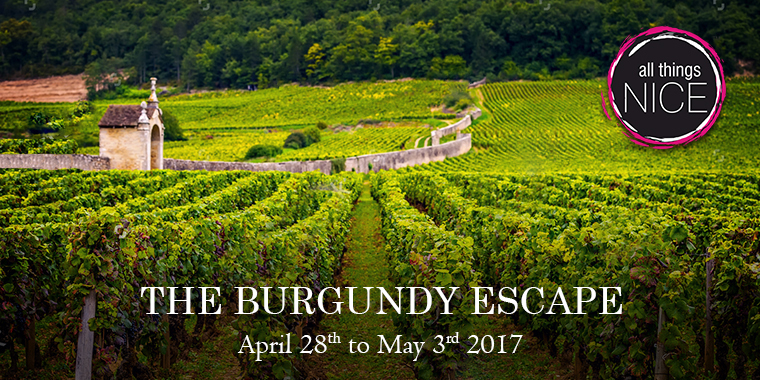 All Things Nice takes you on a magical journey through one of the most iconic wine regions in the world. Enjoy five luxurious days in Burgundy and share our deep passion for this region, its wine, food and lifestyle. This carefully crafted tour takes you through the best of Burgundy, Michelin star restaurants, cellar visits, truffle hunts and a hot air balloon ride. Discover this little piece of heaven on this quintessential escape with us.


Tour Dates: Friday 28th April to Wednesday May 3rd 2017.
Friday, 28th April: Arrive Into Beaune
Arrive at Charles de Gaulle airport in Paris and transfer to Burgundy. Check into Hostellerie Le Cedre, a 5 star property perfectly situated in the city centre of Beaune. Meet with a Sommelier for an initiation to Burgundy and a wine tasting. Enjoy a beautiful candle lit dinner served in Le Caveau des Arches, the hotel's private cellar. Indulge in an extravagant 5 course dinner paired with an aperitif and a free flow of high quality wine. An unforgettable evening in an exceptional setting.
Saturday, 29th April: Route des Grands Crus

After breakfast, enjoy a bike tour on scenic roads through the Route des Grands Crus of Côte de Beaune vineyards - Pommard, Volnay and Meursault. Stop for a fascinating visit of the Château de Pommard. Then enjoy a tasting of vintages from Château de Pommard and two other appellations. Continue by bike on the Route des Grands Crus with drinks and snacks on the way. Break at the village of Puligny Montrachet at the famous plot of Montrachet Grand Cru. Enjoy a lazy 3 course lunch with a free flow of wine

at 1* Michelin restaurant Le Montrachet. In the evening take a guided stroll around Beaune and witness beautiful Renaissance architecture Discover the stunning courtyard of the beautiful 15th century Hospices de Beaune. Built in 1453, this historic hospital owns some of the most coveted vineyards in Burgundy. Dinner with free flowing wine at Le Caveau des Arches. If unable to ride a cycle, transport by car or bicycle rickshaw will be available.
Sunday, 30th April: Burgundy Truffle Hunt, Clos de Vougeot

After breakfast, depart for the Highlands of Cote de Nuit and the Truffle Hunt. Journey through the beautiful villages of Aloxe, Corton, Nuit Saint George till you arrive at the secret Burgundy Truffle trail. Burgundy truffle naturally appears in fall and is similar to the black winter truffles. It has more delicate flavours with hazelnut-like aromas. The Truffle hunt will be followed by a truffle-based lunch with local wines. In the afternoon the group

will be welcomed at the wine estate for a tour and tasting of some of the finest wines of the area. Head back to Beaune and then transfer to Chagny for a gastronomic wine dinner in 3* Michelin restaurant Maison Lameloise.
Monday, 1st May: Vineyards of Côte de Nuits, Cooper Demonstrations

After breakfast depart by minibus through the scenic Grand Cru Road of Côte de Nuits for a walking tour through the vineyards of Burgundy. Cross through the Grand Cru vineyards. Pass through the quaint villages of Gevrey Chambertin, Morey Saint Denis, Chambolle Musigny and head to one of the more famous sites of Burgundy, the majestic Château de Clos Vougeot. A guided visit to the Château reveals a 12th century wine cellar and massive wine press. Your path continues across the Echezeaux and Grand Echezeaux vineyards and then

brings you to the heart of some of the world's greatest vineyards: La Romanée, Romanée-Conti, Richebourg, and La Tâche. Enjoy a wine tasting followed by lunch at Le Chef Coq in Nuit St Georges. After lunch, visit a wine estate for a tasting and cooper craft demonstration. A cooper will introduce the group to his craftsmanship through a dynamic and fun workshop. You will learn all you need to know on wood selection, origins, assembling, heating and the influence of all these steps of wine aging. Try your hand at building your own barrel. Head back to Beaune for dinner and free flowing wine at Le Fleury.
Tuesday, 2nd May: Hot Air Balloon, Crémant de Bourgogne

After early breakfast, drive to the take-off site for the hot air balloon flight. Enjoy a breath-taking view of vineyards bathed in sunlight, medieval towns and villages, churches, castles and the wooded hillside. Enjoy a delicious lunch at Le Benaton. Then visit one of the best Crémant wine producers, and discover this local sparkling wine made by the méthode champenoise. Private visit of 12th century Chateau de Rully with the owner, Comte Raoul de Ternay. Dinner and wine at Le Jardin des Remparts in Beaune.
Wednesday, 3rd May: Goodbye Burgundy

After breakfast, guests can freely enjoy the city of Beaune. Transfer to Charles de Gaulle airport. End of your Burgundy Escape.
For more information on the package and terms and conditions please write to info@allthingsnice.in or call 9820698883
All Things Nice is the platform for knowledge, networking and indulgent
experiences for wines, luxury spirits and gourmet food aficionados.